Expectations of children and families about attendance
We aim for children to love coming to school!
But did you know that when children have time off, it quickly adds up...?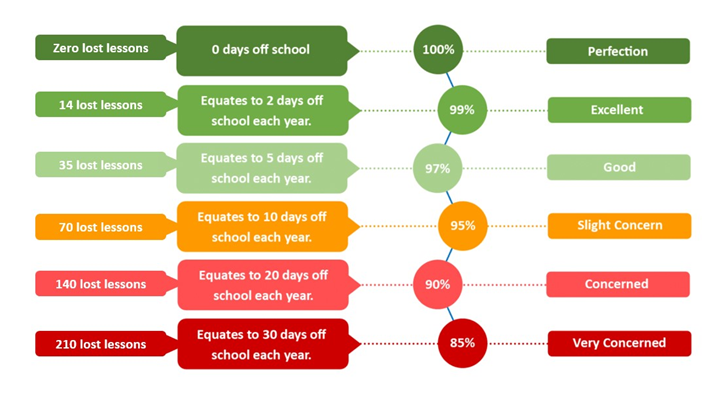 We also have a duty to ensure children attend school, so we reward good attendance with certificates and cakes as well as monitoring poor attendance and working in partnership to improve this.
Above all, we want to work in partnership with you - our customers!  If we see your child is not in school and we don't know why, we'll give you a call so that we all know that your child is safe.  If we see that your child is not in school and there is not an acceptable reason for this, we will class this as 'unauthorised'.  We monitor unauthorised attendance very carefully and work with Telford & Wrekin Council's Attendance Support Team to reduce unauthorised absences and look after children's welfare, including their education.
Sometimes people worry about getting fined for low attendance.  Most people don't have to worry, but if you would like to know what the rules are, please refer to Telford & Wrekin's attendance page.
For reference, please see our school Attendance Policy and the government guide to Parental Responsibility Measures for School Attendance and Behaviour.
If you're not sure about sending your child to school when they are ill, have a look at this to check: https://www.nhs.uk/live-well/is-my-child-too-ill-for-school/
Other pages in this section

: